James Andrew Polsdofer, 104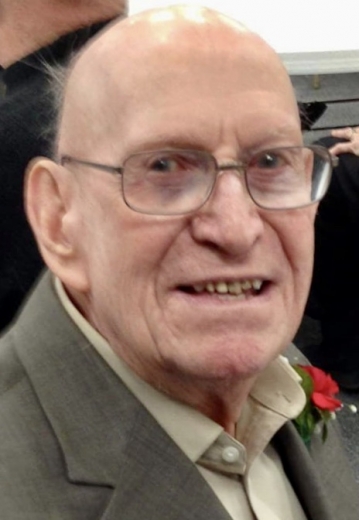 James Andrew Polsdofer, one of Rockwell, Iowa's oldest living residents, left this earthly life to enter his heavenly home on December 27, 2020.
There will be a Committal Service at 10:00 a.m. in the Rockwell Cemetery on Sunday, January 3, 2021. Due to Covid, there will not be a funeral service at this time and the family plans to hold a Memorial Service in the summer of 2021. Cards or memorials can be sent to Janet Alger, 306 South Shore Dr, Clear Lake, IA 50428.
Jim was born to Harvey and Jennie (Hannah) Polsdofer on February 10, 1916 in Swaledale, Iowa. He went to school in Swaledale, where he graduated in 1933. He played the coronet in the school band. He also enjoyed roller skating and ice skating. After graduation he purchased his first, of two Harleys he would own. He really enjoyed riding and going on adventures with friends.
Jim suffered an illness during eighth grade which resulted in his profound hearing loss. He was unable to serve his country due to the hearing loss, but had tremendous respect for those that do serve, and frequently donated to military organizations.
Jim was United in marriage to Geraldine Schoneman on July 14, 1940. They raised their family in Swaledale, Iowa, Radcliffe, Iowa and finally Rockwell, Iowa where they lived for some 70 years. Together, Jim and Geraldine enjoyed traveling, camping, wintering in Arizona, and dancing, especially at the Surf Ballroom. They cherished time spent with their family. They were faithful members of St. Peter Lutheran church in Rockwell dating back to 1944 and they've held PO Box 3, Rockwell, IA for some 70 years as their mailing address.
He operated Jim's DX Gas Station in Rockwell for many years. He then worked for various Mason City car dealerships in their service departments and finally retired from Lane Brothers in Mason City, Iowa.
It is interesting to think about some of the history that has actually occurred during his lifetime: 26 Presidential elections, the Spanish Influenza outbreak, The Great Depression, all the wars and conflicts beginning with World War I and continuing through the years, the discovery of penicillin, the enactment of social security and most recently, though he was spared from it, COVID 19, which has had such a huge impact on our elderly loved ones.
Left to cherish his memory are a son, Larry & Debbie Polsdofer of Longmont, CO; a daughter, Janet & Bill Alger of Clear Lake, IA; daughter-in-law Nancy Polsdofer; grandchildren, Terry Polsdofer, Diane Stearns, Doug (Marti) Polsdofer, Steve (Robert) Polsdofer, Dr. Erik Polsdofer, Dr. Elizabeth (Jason) Carthel, Sara (Scott) Hennagir; great-grandchildren, Kathleen, Trevor, Nicole, Michael, Nathan, Darryl, Megan, Christopher & Katelyn; great-great grandchildren, Joe, Devin & Lonie; many special nieces and nephews and a very sweet friend, Josi.
Jim was preceded in death by his wife Geraldine, a son Edwin, parents Harvey & Jen Polsdofer, Blanche Laidley Polsdofer, in-laws Henry & Tillie Schoneman, Louise Barkhurst Schoneman, brother & wife Charles & Phylis Polsdofer, brother-in-law & wife Roger & Gladys Schoneman, grandson Kennon and great-grandson Troy.
The family would like to extend a very special 'thank you' to all the caregivers and staff at the Rockwell Community Nursing Home, for the tender loving care they provided for Jimmy after Geraldine's death, and during the three years Jimmy resided at the nursing home.
Fullerton Funeral Home and Cremation Services, 120 S. 3rd ST., Rockwell, Iowa 641-822-3191,  www.Fullertonfh.com
Category:
Sheffield Press & Pioneer Enterprise
The Sheffield Press
305 Gilman Street
PO Box 36
Sheffield, IA 50475
Phone:  641-456-2585
The Pioneer Enterprise
PO Box 302
Rockwell, IA 50469
Phone:  641.456.2585
Mid-America Publishing
This newspaper is part of the Mid-America Publishing Family. Please visit www.midampublishing.com for more information.