E. Joyce (Froning) Brouwer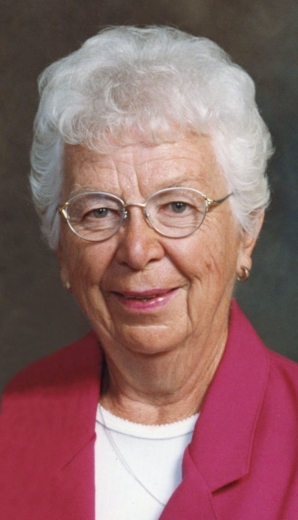 E. Joyce (Froning) Brouwer was taken to her heavenly home on Friday September 24, 2021, after a brief stay in the Sheffield Care Center. Joyce was born to Earl and Amber (Lumley) Froning on January 5, 1928, at their family century farm near Chapin, Iowa. For those of you who are trying to figure this out, she was 93 years old. She enjoyed playing basketball in her high school years until graduating as a Comet from Chapin Consolidated School. After graduation she made her way to Mason City where she attended and graduated from Hamilton Business College. It was at the roller skating rink in Mason City that she met the love of her life, Elwyn Brouwer. They were united in marriage on April 13, 1948, at the Salem Methodist Church in Chapin, Iowa. For those of you who are wondering, they were married 61 years. After marriage they ran the Sheffield Locker for several years, then moved to the country where they began following their dream of farming. They worked and played side by side through their entire marriage. She enjoyed golfing, camping, picture puzzles, crocheting, gardening and crafts. For 20 years they pulled a camper to Texas to spend part of the winter with friends. Dad always knew it was time to come home when Mom started crying because she missed the family.
She loved making huge meals and this may seem different to some, but we always ate our meals together at the kitchen table. Everyone who helped on the farm got a taste of her cooking and baking. If you happen to stop at meal time, you were more than welcome to eat with them. She had a large garden and did a lot of canning and freezing to enjoy through the year. She was very involved in her church as she was the secretary for the U.M.W until the church dissolved. When the Salem United Methodist Church closed, she then started attending United Methodist Church in Sheffield where she was on the church council. She volunteered at the Sharing Shoppe for many years and you could see her mowing her lawn until she was 90.
Family always came first. Whenever they were in need, she would be there to help out no matter what. Her daughters and son-in-law always had something going on they needed help with too! She loved phone calls from grandkids and great grandkids or having them stop in for a brief visit and a cookie or two. Family gatherings was something she always looked forward to.
Her favorite song was Barbara Mandrell's, "I'll Leave Something Good Behind". Those who she left behind are her daughters Sandra Brouwer, Susan (Mark) Rother; grandsons Ryan (Jessica Jo) Rother, Tony (Jessica) Rother, Chad (Danica) Brouwer; great grandchildren Jaden Brouwer, Rose Rother, Brooke Rother, Josephine Joyce (J.J.) Rother, Autumn Stonecypher, Landon Rother, Olivia Rother; sister-in-law Darlene Peter and many nieces and nephews. Those welcoming her into her heavenly home are her husband Elwyn, her father and mother Earl and Amber Froning, brother Warren (Laura) Froning, sister Veloye (Rolly) Koeningsberg and two nephews.
Memorials may be directed to Joyce's family for future distribution to local organizations.
A memorial service will be held at 11:00 a.m., Saturday, October 9, 2021, at First United Methodist Church in Sheffield. Visitation will be held from 9:00 a.m. until service time at the church on Saturday. Private family burial will take place in the Hillside Cemetery in Sheffield.
Category:
Sheffield Press & Pioneer Enterprise
The Sheffield Press
305 Gilman Street
PO Box 36
Sheffield, IA 50475
Phone:  641-456-2585
The Pioneer Enterprise
PO Box 302
Rockwell, IA 50469
Phone:  641.456.2585
Mid-America Publishing
This newspaper is part of the Mid-America Publishing Family. Please visit www.midampublishing.com for more information.